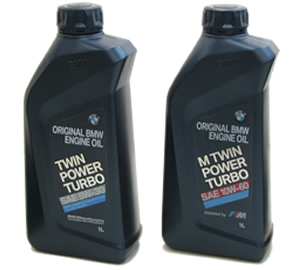 In January 2015 BMW introduced a new line of fully synthetic engine oil applicable to all BMW gas engines. The Twin Power Turbo 5W-30 & 10W-60 engine oil (Engineered for M Powered Cars) has improved viscosity and temperature performance which results in better engine performance and fuel consumption.
Your BMW requires an advanced synthetic engine oil which is synthesized with chemical compounds in a controlled process, eliminating contaminants. Natural (crude) oils can contain contaminants that made it through the refining process.
The new "Genuine BMW Synthetic Oil", though a bit more expensive than natural options, allows you more mileage between oil changes, perform better at lower and higher temperatures, and also are designed to help clean your engine, keeping it free from build-up.
This advanced, fully synthetic genuine BMW oil used by the BMW dealer network & offers superior protection and performance in both turbocharged and non-turbocharged engines. This engine oil has been approved and tested for all BMW gas engines in all temperature conditions.